OC5 Recap and What's Next
Hey everyone,
As you know we recently took a contingent of our team to Oculus Connect 5, where we were able to meet with other industry peers, do a few press interviews, and attend sessions to learn about some of the most exciting new technology coming in the VR space. It was also a great team building experience for us, since we all work remotely and don't actually see each other in a traditional office setting every day. Our thanks to Oculus for inviting us, it was a great time.
We were also one of the games chosen to participate in the Developer Meet and Greet area, which gave us a chance to demo our game to the attendees and chat and answer questions about the game. We saw some familiar faces who have been playing the game for a long time, and also spoke with lots of new folks who had never heard of the game (at least until we got a shout-out in the main keynote address! Woot!) We actually brought a pre-Alpha version of Reborn with us to demo, with the new Highsteppe area, Dragon pet racing, and the new character creation system which allows you to fully customize your avatar. It was great to share this new vision of the game with the world publicly for the first time. I've actually uploaded the "trailer" video that we cut together to show on the monitor for people walking by on the convention floor if you'd like to watch it:
(Please note that this is still pre-Alpha footage, and a lot of mechanics for the new game like the advanced monster AI were not available yet to show at the convention; this is just a really quick cut I threw together of some testing footage we had, don't take it the same as a main "trailer" for the game).
A couple of photos of us showing off the game on the convention floor and talking with attendees: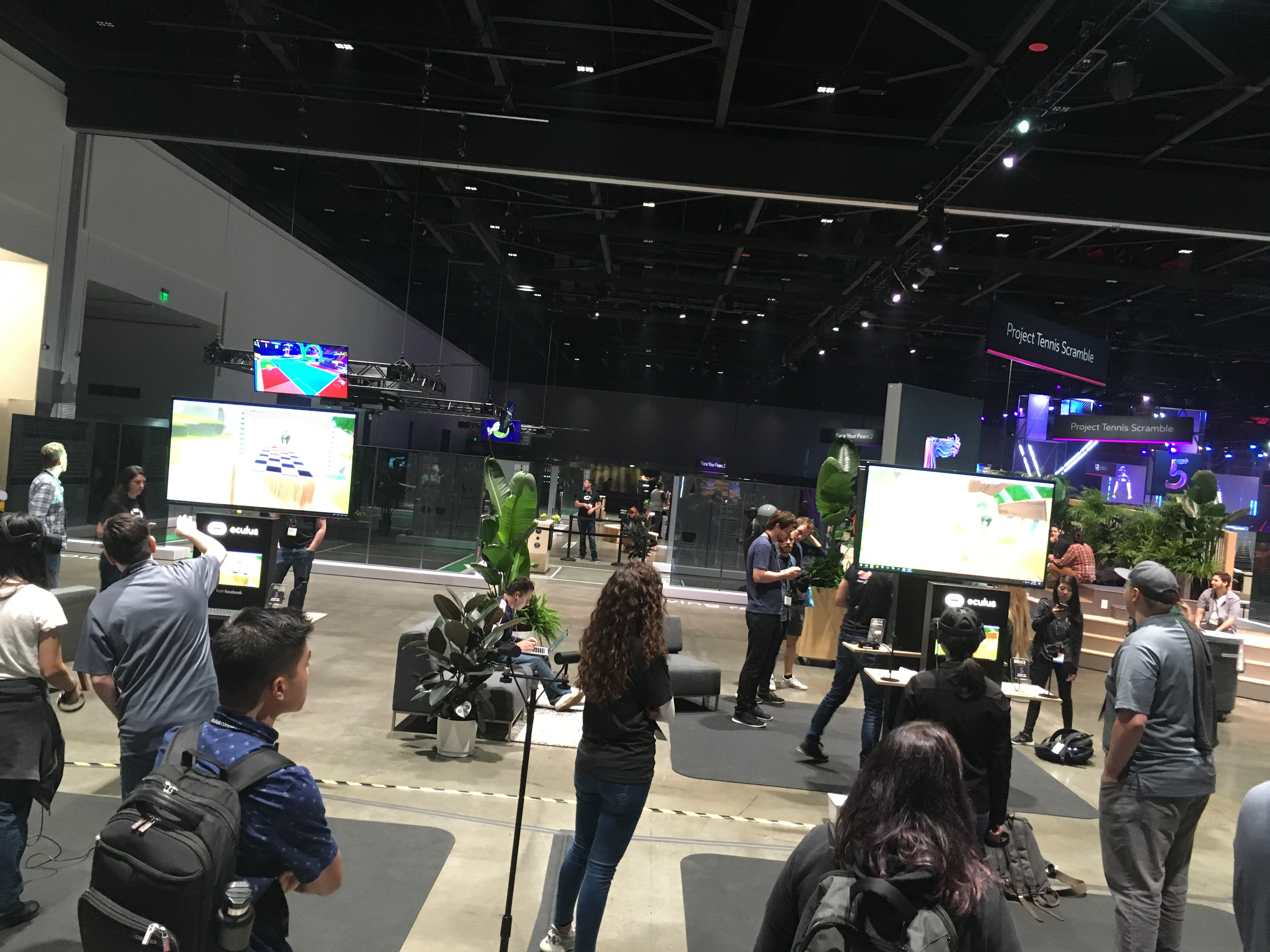 So What's Next?
OrbusVR: Reborn of course! The team had been working really hard to prepare for OC5 and to demo the game there, but the good news is that all of that hard work translates directly into beta-testable stuff that you all can begin to help us check out and give feedback on. During this week, the team will be re-grouping and laying out our schedule internally for getting us from here to the first Beta test of Reborn, and then into the future for additional Beta tests and our eventual launch next year. We'll also be catching back up on all the forum posts and support requests that might have gotten a little delayed while the team was out of town (and we thank you for your patience!)
Look for another blog post this week with more info on Reborn Beta testing, what the schedule will be, what things will be available to test when, etc. I know you are as excited as we are to begin the road to release for the new version of the game, and we can't wait to share with you all the things we've been working on.