Celebrating Four Years of OrbusVR
In today's patch we introduce a new Battlegrounds map, the Temple of Ma'at, and bring back the Scavenger Hunt in honor of our fourth anniversary.
Battlegrounds
For a closer look at the new Battlegrounds, check out our previous blog post. We are also adding a new Battlegrounds long-term mission today, so be sure to visit the LTM Vendor on the top floor of the Highsteppe Tavern to pick up the mission before queueing for Battlegrounds today!
Anniversary Scavenger Hunt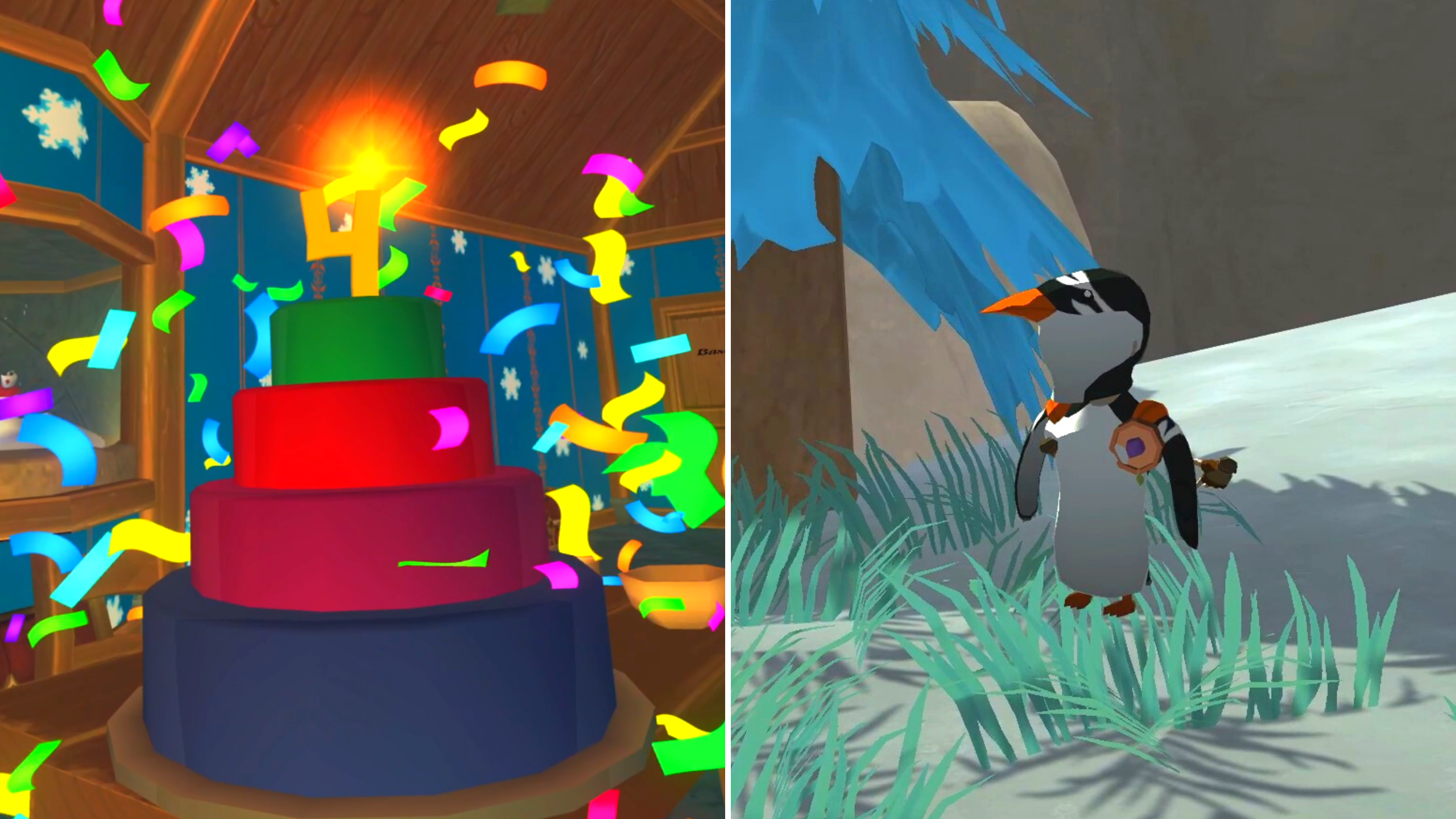 Last month officially marked four years of OrbusVR. We're celebrating by bringing back the Anniversary Scavenger Hunt, which can be started by talking to the Anniversary NPC near the bulletin board outside the Player House. Finish the questline to earn the Penguin Transmog set! You can also visit the Rewards NPC near the Critter Capture Shop to claim your Four Year Anniversary Cake and Cape.
Four Years of OrbusVR
When you're "in the weeds" of the game on a day-to-day basis, whether as a Dev or a player, it's easy to lose sight of just how big the big picture has grown. We've made it a tradition each anniversary to pull stats on how much the community has played in the past year, and each year you all continue to impress us!
From the very beginning of the game to last month, here's a look at the numbers:
Dec 2017 - December 2021
109,950,491 – Monsters killed
24,553,623 – Total pounds of fish caught
17,745,033 – Lootbags collected
252,136 – Potions brewed
427,368 – Characters made all-time
668,790 – Dungeons completed
239,031 – Dragon races completed
318,015 – Shard Dungeons completed*
90,566 – Treasure Chests Opened*
5,183 – (Citadel) Sephotep Kills*
280 years 91 days 19 hours (2,455,003 hours) – Total number of hours played
*new stat pulled
By comparison, when we pulled the stats last year:
Dec 2017 - Dec 2020
65,140,766 – Monsters killed
13,876,228 – Total pounds of fish caught
8,493,628 – Lootbags collected
185,240 – Potions brewed
274,113 – Characters made all-time
284,130 – Dungeons completed
140,463 – Dragon races completed
173 years 0 months 24 days 19 hours – Total number of hours played
Over the last year you all completed more than 2x as many dungeons as in the first three years combined; opened 2x more loot bags; and killed and caught almost 2x more monsters and fish (respectively).
Looking Back
While you all were busy in-game this last year, the Dev team was busy behind the scenes working on new content, features and bug fixes. Here's a look at some of the 2021 content:
As always, a big THANK YOU to our community. You all make the game what it is, and we are grateful for your dedication and enthusiasm.