Anniversary Scavenger Hunt and Quest 2 Updates Live
Today's patch is officially live, which means the 3-year anniversary scavenger hunt is officially underway. Visit the anniversary NPC next to the bulletin board near the Player House in-game to pick up the first quest. Complete the scavenger hunt to earn a Penguin Transmog set, perfect for enjoying the last month of winter in-game.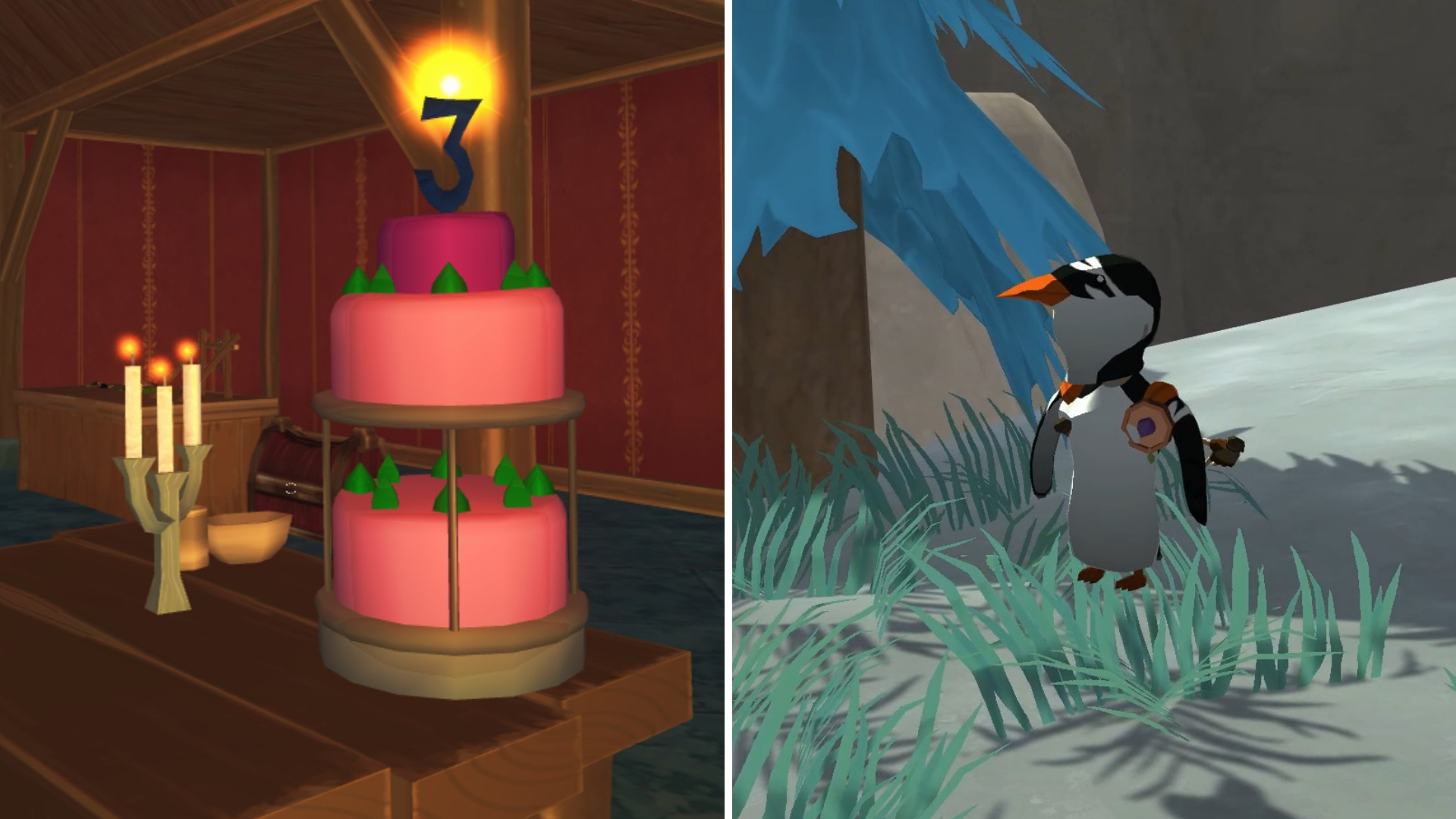 We will also be giving away a 3-year anniversary cake (Player House furniture) and cape. Visit the Rewards NPC near the Critter Capture shop to pick up both items.
We also look forward to seeing you all at our in-game event tomorrow evening. Several members of the Dev team will be hanging in/around the Highsteppe Tavern between 6-7 PM CST tomorrow night (Wednesday, February 3rd).
Looking Back
It's been a big year of growth at OrbusVR. Our community progressively grew over the course of the year, and especially in the fall with the release of the Oculus Quest 2.
In last year's anniversary post we shared some stats generated in the first two years of the game. We pulled those same stats for the past year, and were impressed to see just how much the community has been playing this last year.
December 2017 - December 2019
33,659,242 – Monsters killed
8,580,046 – Total pounds of fish caught
2,035,557 – Lootbags collected
136,695 – Potions brewed
98,854 – Characters made all-time
69,850 – Dungeons completed
51,549 – Dragon races completed
95 years 6 months 8 days 6 hrs – Total number of hours played
December 2017 - December 2020
65,140,766 – Monsters killed
13,876,228 – Total pounds of fish caught
8,493,628 – Lootbags collected
185,240 – Potions brewed
274,113 – Characters made all-time
284,130 – Dungeons completed
140,463 – Dragon races completed
173 years 0 months 24 days 19 hours – Total number of hours played
In just the past year, the community killed almost 2x as many monsters as in the first two years combined; made almost 3x as many characters; collected more than 4x as much loot and ran 4x as many dungeons. You all have been busy! And we couldn't be happier about it.
As VR becomes more mainstream, we look forward to seeing even more players join the community!
Quest 2 Updates, Bug Fixes and More
Quest 2 updates will also go live with this patch, meaning Quest 2 players will now be able to see mounts and toolbelt items on other players, and other players will also have both a left and right hand (instead of two lefts). The following quality of life improvements are also now live:
A new, safer way to delete characters to help reduce chances of any accidental character deletions. Now when you select "Delete" on the character menu, you will have to press and hold the Confirm button. Your controller should vibrate as you wait for the red dial to fill up, at which point your character will officially be deleted.
A new lock button for your inventory. With this new feature you can prevent accidental deletions when you're cleaning out your inventory. Simply select the item in your inventory and select the "Lock" button below. You can still equip locked items, but in order to break them down and remove them from your inventory, you will need to first unlock them.
A check for new Fellowship members. Now when inviting members to join your fellowship, the game will perform a check to ensure they aren't already a member of another Fellowship.